Breaking down the word "community" tells us the root words "common" and "unity."
This gives a sense of its true meaning - a collective union that is made up of individuals for the benefit of all.
As a young adult, your biggest asset is your time and your time can go a long way toward improving the community around you.
Volunteering gives you valuable networking experience, introducing you to other people who, one way or another, can help you shape your life and choices going forward.
The CEO of Netflix, Reed Hastings, was part of the Peace Corps from 1983 to 1985. He taught high school math in Swaziland and credits part of his entrepreneurial spirit to his time there.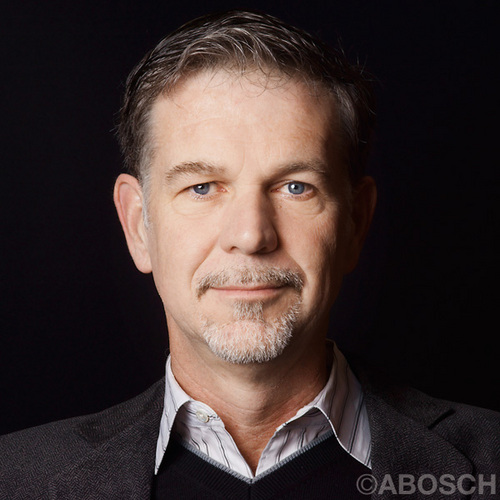 Reed Hastings CEO of Netflix
Once you have hitchhiked across Africa with ten bucks in your pocket, starting a business doesn't seem too intimidating.​
Beyond simply the contribution to society, community service also holds a number of surprising benefits for you both in the short and long term. Professionals primed for success realize the importance of giving back to the community, and feel happier because of it.
1. The psychological, physiological and social benefits of volunteering
Volunteers experience a range of psychological, physiological and social benefits through their work in the community. A study by the United Health Group found that those who volunteered scored better on nine measures of emotional wellness.
These measures included personal independence, capacity for rich interpersonal relationships and overall satisfaction with life.
Roughly 70% of individuals in the study claimed they felt healthier, had lower stress and were more in control of their moods after engaging in community service!
Studies by a variety of institutions have linked health benefits to engaging in community service.
A study by Carnegie Mellon found that volunteering reduces risk of hypertension as you get older. Specifically there was a 40% reduction in the risk of high blood pressure in older adults.
A study by Cornell University has found a link between environmental volunteering and improved mental and physical health.​
The studies did not find any correlation between the number of hours spent doing the volunteering activity and the benefits experienced.
Longevity, though, was a factor, hence the longer you do it, the greater the benefit.
H Jackson Brown Jr Author
"Remember that the happiest people are not those getting more, but those giving more."
2. Helping the community helps your career, sometimes in ways you may not think
Participating in community service however holds more than simply health benefits. Activities like volunteering can greatly enhance your resume by allowing you to obtain work related skills before graduation giving you an advantage over other young adults.
If you work with an organization, you may get good references for future employers. Organizations value community involvement, and sometimes you might even meet potential future employers.
A survey carried out by TimeBank through Reed Executive showed that among 200 of the UK's leading businesses
73% of employers would recruit a candidate with volunteering experience over one without

94% of employers believe that volunteering can add to skills

94% of employees who volunteered to learn new skills had benefited either by getting their first job, improving their salary, or being promoted
Students who participate in community service also tend to do better in school. Volunteering allows them to apply what they've learned in the classroom to human needs in the real world.
This diagram by the cartoonist, Hugh MacLeod, demonstrates how knowledge itself is not enough and it is experiences that give knowledge a structure allowing you to be effective.
Community Service puts you in a team with different people. These people may be from a variety of backgrounds. And you will have an end goal. Your end goal can only be accomplished by working together.
By interacting and experiencing this environment you will grow as you find out more about yourself and the community around you, this will ultimately be strengthening your confidence.
It gives you those connections.
Andrew Shue Actor
​Community service has taught me all kinds of skills and increased my confidence. You go out there and think on your feet, work with others and create something from nothing. That's what life's all about.
3. How do volunteering employees end up being better employees?
With all these benefits to individuals, it is no secret that employers too, enjoy the positives of community service. This study by Junior America found that employee volunteering leads to an improvement in employee attitudes, greater job satisfaction as well as strengthening the company's bottom line.
Volunteering provides an opportunity for employees to learn and develop skills that make them more proficient and effective in the workplace. It promotes functional job skills as well as interpersonal, team-building skills.
When employers promote volunteering, it not only builds better job and health skills for employees, it also earns the employer goodwill.
Volunteering is no easy feat, your employees will devote hours out of each and every day. They will learn to manage your time effectively as it will be a necessary skill.
This will help their career in the long run as well as improve their efficiency as they learn to manage and arrange busy schedules.
Volunteering organizes individual workers into groups. This provides them an opportunity to get to know their colleagues outside the usual work environment.
In the workplace this will lead to greater productivity as employees are able to easily collaborate with each other due to the strength of their relationship.
As a volunteer, your employee will engage in many different types of activities that are usually way outside their comfort zones.
They will have to depend on your fellow volunteers therefore putting emphasis on their collaboration and communication skills. This will facilitate group projects within the work environment.
4. Finding the right kind of volunteering to do
It is important that when looking to volunteer for community service, you find what suits you.
The best volunteer experiences benefit both the volunteer and the organization.
If it is unpaid work after all, you might as well find work that is most to your liking. So give careful consideration to your interests, abilities, logistics, time commitment, and even the attitude of the organization staff.
For example, Kevin Johnson decided to volunteer. He didn't have a lot of free time, and wasn't able to travel long distances. Fortunately, he knew all about virtual volunteering, so he searched the platform for a recurring volunteer opportunity that he could perform from any location.
Kevin found an opportunity posted by Services Now for Adult Persons (SNAP), looking for someone to call a virtual bingo game for homebound seniors. He may have looked twice at such a unique listing, but it didn't take long for Kevin to hit that green "I want to help button" and sign up for the opportunity.
It is okay if the reach of volunteering is limited to local bodies. Organizing a blood drive, hosting an awareness event for young kids, or holding a collection drive for a food bank are all valued community work.
If you are so inclined, you could also work for a national cause like raising awareness about AIDS or helping in areas of natural disasters.
Organizations like Habitat for Humanity can give you great opportunities to travel as well as volunteer in countries around the globe.
​Brad Pitt worked with Habitat for Humanity in 2006, helping to build houses in India.
Try to choose an activity that accommodates your interest and time commitment to ensure longevity in participation.
Avoid organizations that only seem to engage in photo ops rather than any real work.
Many offer volunteer work that is not much help to the community. This is usually the result of an unofficial organization that may be more of a side-line job for the higher ups involved. Sometimes they may be a front for an organization engaged in completely unrelated illicit activities.
5. How volunteering for others empowers you
In this Ted talk, Dave Meslin, who is a Toronto-based artist and organiser who has instigated a variety of urban projects to bring about social change. He is also known as a "professional rabble rouser".
He talks about social work as a way to break community apathy and bring people together on a variety of core issues that affect all of us.
It is important to reflect on your community service. Reflection will help you increase sensitivity to community issues. It also lets you monitor service experiences through discussion and interaction with other volunteers which will help you feel both challenged and supported.
Try to think critically about your volunteer experience.
Think about what improvements you would make in the process if you were to repeat it.
Attempt to understand the complexity of the experience and maybe put it in a larger context.
This might allow you to transform the single project into further involvement in your field.
Conclusion
This is the much larger aspect to volunteering than simply engaging in the community. It is a tool to enact change both in your community and politically. Engaging in the community brings individuals together to bring about social change.
It gives you the power of action in your community.
Wherever there is a community, there are opportunities to volunteer. And when you help your community, you help yourself too.
Volunteers are a critical part of and participants in societies in the world. Whether actively giving their time through a formal organizations, or taking part in "informal volunteering".
Can you think of the effective ways you can contribute to society with your time and resources and what benefits it will bring you and your community?